The telecommunications industry plays a critical role in connecting people across the globe. It relies on a complex network of cables, wires, and equipment to ensure seamless communication. One essential component in this industry is stainless steel banding strap, which has found various applications due to its durability, strength, and versatility. This article explores the different uses of stainless steel banding strap in the telecommunications industry.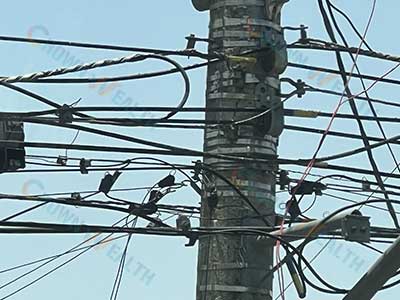 1. Cable Management:
Stainless steel banding strap is widely used in cable management systems. It provides a secure and organized solution for bundling and fastening cables together. The strap's high tensile strength ensures that the cables are held firmly in place, preventing any accidental disconnections. Moreover, its resistance to environmental factors such as moisture, heat, and UV radiation makes it suitable for both indoor and outdoor installations.
2. Tower Mounting:
Telecommunication towers require sturdy and reliable mounting solutions to support antennas and other equipment. Stainless steel banding strap is an ideal choice for this purpose. It can be used to secure banding bracket or cross arm to the tower, ensuring stability and preventing any movement caused by wind or other external factors. Additionally, the strap's corrosion resistance makes it suitable for outdoor installations, where it is exposed to harsh weather conditions.
3. Pole Attachment:
In the telecommunications industry, poles are often used to support cables and equipment. Stainless steel banding strap is frequently employed to attach equipment such as junction boxes, fiber optic enclosures, or power supplies to these poles. The strap's flexibility allows for easy installation, while its strength ensures that the attachments remain secure and stable over time.
4. Underground Installations:
Stainless steel banding strap is also utilized in underground installations, where cables and equipment are buried for protection. The strap can be used to fasten cables to conduits or other support structures, ensuring that they stay in place and are not damaged by external forces. Its resistance to corrosion and high temperatures makes it suitable for these demanding environments.
Stainless steel banding strap is a versatile and reliable solution in the telecommunications industry. Its applications range from cable management to tower mounting, pole attachment, underground cable installations. The strap's durability, strength, and resistance to environmental factors make it an essential component in ensuring the smooth functioning of telecommunication networks. As the industry continues to grow and evolve, the demand for stainless steel banding strap is expected to increase, further solidifying its importance in this sector.
Hebei Crown Wealth is a professional supplier of hardware products. If you have any questions please contact us, our friendly staff are always on hand to answer your questions.