Hose clamps are essential tools used in various industries, including electric power, telecommunications, and construction. These versatile clamps play a crucial role in securing and connecting hoses, pipes, and cables.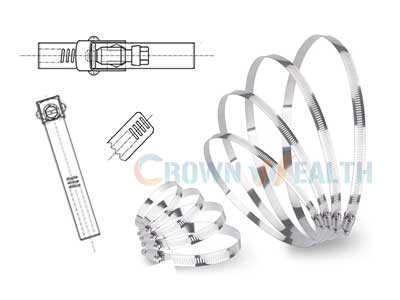 Electric Power:
In the electric power industry, hose clamps are widely used for cable management and protection. They ensure the proper installation and organization of cables, preventing them from tangling or becoming damaged. Hose clamps are also used to secure cables to structures or equipment, providing stability and preventing accidents caused by loose or hanging cables. Furthermore, hose clamps help to maintain the integrity of electrical connections, ensuring efficient power transmission and reducing the risk of electrical failures.
Telecommunications:
The telecommunications industry heavily relies on hose clamps for cable management and connection. Hose clamps are used to secure and organize cables, ensuring they are properly routed and protected. These clamps also play a crucial role in preventing cable damage caused by excessive bending or pulling. By keeping cables securely in place, hose clamps minimize signal interference and maintain the overall performance of telecommunication systems. Additionally, these clamps are used to connect cables to equipment, such as antennas or routers, ensuring a stable and reliable connection.
Building:
In the construction industry, hose clamps are used for various applications. They are commonly used to connect and secure pipes, ensuring leak-free connections in plumbing systems. Hose clamps also find applications in HVAC (heating, ventilation, and air conditioning) systems, where they secure ductwork and prevent air leaks. Additionally, in construction projects involving fluid transfer, such as concrete pumping or water supply, hose clamps are essential for securing hoses and preventing leaks or bursts. Their versatility and ease of use make hose clamps an indispensable tool in the construction industry.
The application of hose clamps in these industries is of utmost importance. They provide a cost-effective and efficient solution for securing and connecting hoses, pipes, and cables, ensuring their proper functioning and longevity. By preventing leaks, damage, or accidents, hose clamps contribute to the safety and reliability of electric power, telecommunications, and construction systems.
Hebei Crown Wealth is a professional supplier of hardware products. If you have any questions please contact us, our friendly staff are always on hand to answer your questions.